Thank the maker that we're almost out of these cold months. In the meantime, stay warm with the unending horde of PC games to be play. Mortal Kombat 11 has everyone wondering what their insides look like, while Devolver Digital's Weedcraft Inc turns toking enthusiasts into tycoons. Whatever your passion is, you can bet 2019 has a game for it. Yes, even you, anthropomorphic building enthusiasts.
We've organized our massive guide to upcoming 2019 PC games by the month they're scheduled to release. For the games that don't have a release date yet (and there's a ton of them), check out the TBA page. We'll be updating this front page with the current month's releases and the biggest, most anticipated new games of 2019, so make sure to check back often.
New games out in March 2019
Dead or Alive 6
March 1 | Team Ninja | Link | Fighting
The beat-'em-up series returns with more detailed fighters than ever, and more character designs that make us roll our eyes. Over 18 characters have been revealed so far, so the series' fans should be happy.
Ethereal
March 7 | Nonsense Arts | Link | Puzzle
I don't normally call puzzle games "eerie," but this IGF finalist might be the first. First there's the weird directional puzzles – you're moving a blob around a maze of shifting lines – that feels mesmerizing and confusing all at once. Then there's the soundtrack (on Spotify) that pushes it all to 11, with giant pulsing ambience that makes you feel as small as the blob must, lost in all those rows.
Katana Zero
March/'Soon-ish' | Askiisoft | Link | Action
A 2D indie slice 'em up action game with style to spare. Katana Zero simply looks and sounds rad, with a Hotline Miami or Samurai Gunn instakill sensibility, but in the mold of a sidescrolling platformer. Dilating time will be key to surviving those split-second do-or-die moments.
Left Alive
March 5 | Square Enix |Link | Shooter/action
The director of the Armored Core series, mech designer from Ghost in the Shell, and character designer from Metal Gear Solid have teamed up for this third-person shooter/stealth game. You bet your butt there'll be giant robots. It made a mildly disappointing showing when we checked it out at Gamescom 2018.
The Occupation
March 5 | White Paper Games | Link | Adventure
A mix of investigative journalism, immersive sim storytelling, and shady government intrigue, The Occupation pits you as a reporter searching for the truth behind a deadly explosion. It's the kind of cold, moody thriller that makes All the President's Men or The Manchurian Candidate classics. We dug the developer's last game, Ether One.
Devil May Cry 5
March 8 | Capcom | Link | Action
2013's DMC was a perfectly lovely game, but don't tell that to the fans who foamed at the mouth about stylistic changes like…Dante's hair, really? Anyway, Devil May Cry 5 director Hideaki Itsuno (who directed DMC 3 and 4) and producer Matt Walker reassured fans that the game will be a "true sequel" to Devil May Cry 4, so there. Nero and Dante will definitely be playable, along with a new character, the slightly goth-looking guy V.
The Division 2
March 15 | Ubisoft | Link | Shooter
It's another grim commentary on a post-apocalyptic America, without the commentary? That aside, The Division 2 takes Ubisoft's persistent multiplayer shooting to the summery streets of Washington D.C. You'll get eight players instead of four in raids now, and following Ubisoft's solid trend of long-term support, we'll be getting free DLC every three months for a year. Not too bad for the end of the world.
Satisfactory
March 19 (Early Access) | Coffee Stain | Link | Survival/construction sim
It's a little funny that the team that gave us Goat Simulator is now letting us install a planet's worth of orderly conveyor belts. Industrial efficiency is the idea in Satisfactory, where you'll start with a simple workbench that crafts weapons and mining tools, raze a biome or two to make way for your mega-factory, and occasionally fend off giant crab creatures. Thankfully, the developer says it won't be nearly as survival-focused as similar games.
Sekiro: Shadows Die Twice
March 22 | From Software | Link | Action adventure
2019 is the year of the samurai (and smooching, apparently), but the only thing kissing in this game is your chained sickle and the neck of a gargantuan horse lord. Dark Souls/Bloodborne purists should expect plenty of changes, however. For every one thing they've taken away (no stats, no changeable armor/weapons, no souls), they add something new, like a "Shinobi Prosthetic" that houses gadgets, the aforementioned grappling hook, and a revised combat system that's less health bar-whacking and more cinematic sword duel. Here's everything we know.
Generation Zero
March 26 | Avalance Studios | Link | FPS
I've never been to Sweden, but this 1980's robot apocalypse version certainly gives me second thoughts on future vacations. Groups of up to four players can lurk around the open world shooting at robots both small and uncomfortably immense. Interestingly enough, any damage you do on a single bot is persistent, no matter how far they wander.
Dark Devotion
Q1 | Hibernian Workshop | Steam | Metroidvania
Dark Devotion looks like a pretty classic Metroidvania experience, but with a pretty spooky lighting system and some enemies that would be more at home in a Hellraiser movie or Dark Souls.
2019's biggest new PC games
Doom Eternal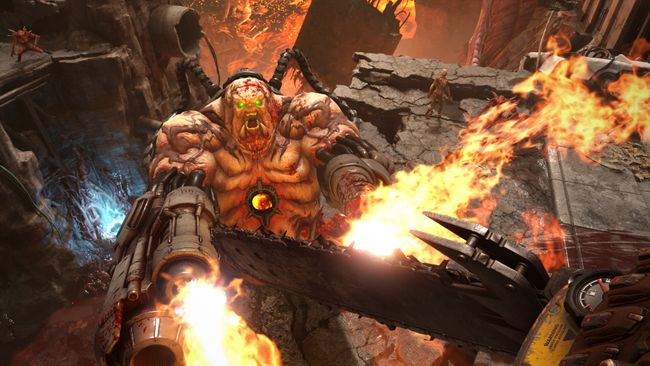 TBA | id Software | Link | FPS
Doom Eternal brings hell to Earth, a nice change of setting from 2016's excellent reboot. Expect to fight twice as many demons in this instalment, using a brutal upgraded armoury. This includes a new version of the Super Shotgun, which features a grapple-friendly 'meat hook' on the end, and hopefully a ton more ludicrous weapon mods.
Dying Light 2
TBA | Techland | Link | Open world
Dying Light 2 brings big choices to the open world zombie series. With writer Chris Avellone helping in the system's creation, your decisions will shape what happens to the city around you. Liberate a water tower, for example, and you can hand it over to authoritarian rulers so everyone can drink from it—they'll even repair the area around it, too, making it easier to navigate. You can also choose to hand it to shadier characters, who'll sell access to the water but give you a cut. Expect to see a lot more of how these decisions affect this ambitious game across 2019.
The Division 2
March 15 | Ubisoft | Link | Shooter
Eight-player raids come to The Division 2, as well as a big change in setting, taking the apocalyptic Tom Clancy game to Washington DC. The real sweetener, though, is the free DLC will follow release every three months for a year, so you'll have a reason to keep coming back to this third-person online game.
Total War: Three Kingdoms
May 23 | Creative Assembly | Link | Strategy
The next Total War takes us somewhere we've never been before in the series: ancient China, during the Three Kingdoms era after the dissolution of the Han dynasty. This entry promises to focus in on the heroes of the era, letting you pick a character from a selection of 11 rather than a faction, and brings matching new systems to the long-running strategy series.
Sekiro: Shadows Die Twice
March 22 | From Software | Link | Action Adventure
Every From Software game feels like an event, now, and Sekiro's changes to the Souls formula take it more into action game territory. James called it "more Hotline Miami than Dark Souls", which potentially opens it up to a different audience—there'll be no souls, or stats, or armour and weapons to change up. Think more cinematic sword duels than trying to whittle down a health bar. You'll also have a grappling hook in tow, on top of other neat toys.
The Outer Worlds
2019 | Obsidian Entertainment | Link | RPG
With original Fallout designers on-board, The Outer Worlds looks like a cross between Fallout and Firefly, taking us to a funny and bright-looking sci-fi universe. For Fallout fans who didn't love 76, this should scratch that New Vegas itch. Wes saw it in action recently—here's what he thought of Obsidian's latest.
Spelunky 2
2019 | Mossmouth | Link | Roguelike platformer
In the sequel to our 2013 GOTY, you'll be playing as the Spelunker's daughter and exploring the moon. In Summer 2018, we got a look at the game in action—glance at the trailer above for an idea of what's coming.
MechWarrior 5: Mercenaries
September 10 | Piranha Games | Link | Action
If you, like us, have been waiting 17 years for a new singleplayer MechWarrior campaign, this will be a huge deal in 2019. MechWarrior 5 will let you explore and liberate apparently hundreds of planets from enemy strongholds, fully customising your mech along the way.
Hollow Knight: Silksong
TBA | Team Cherry | Link | Metroidvania
What started as DLC for Hollow Knight, starring Hornet as a playable character, apparently could not be contained. It's become a full game, a sequel to Hollow Knight, with a new setting, 150+ new enemies, a quest system, and doubtless much more. Whereas Hollow Knight was about descending deeper into the depths of Hallownest, this game will see Hornet climbing through a new kingdom to reach a peak. Team Cherry haven't mentioned a release date, but seem to be well into the game from what they've shown.
Thanks For reading pls do subscribe.
Source:https://www.pcgamer.com